Get ready for S/4 with SAP Clean Core.
Keeping SAP Core clean enables organizations to run leaner, faster and respond to business transformation at scale.
Talk to our S/4 Experts
Why we need to keep "SAP Clean Core"?
"SAP Clean Core" is a term used to refer to a new approach to implementing SAP systems, particularly the S/4HANA suite.
Traditionally, SAP systems have been customized to meet the specific needs of individual customers, resulting in complex and often difficult-to-maintain software landscapes. With the introduction of SAP S/4HANA, SAP has emphasized the importance of adopting a standard approach to implementing the software, known as a "clean core" approach.
The clean core approach involves using the standard functionality of the SAP software as much as possible, rather than customizing it to fit specific business requirements. This allows for a simpler, more streamlined implementation process, with fewer complex customizations and a reduced risk of compatibility issues when upgrading to newer versions of the software.
In summary, "SAP Clean Core" is a term that refers to an approach to implementing SAP systems that emphasizes standardization and minimization of customization.
How to make keep your core clean?
Goodbye - "Z & Y namespace". The idea is simple "No Customization in the Core".
Custom functionality would move to BTP leveraging SAP oData framework or micro-service architecture.
Custom software could be deployed as accelerators via BTP.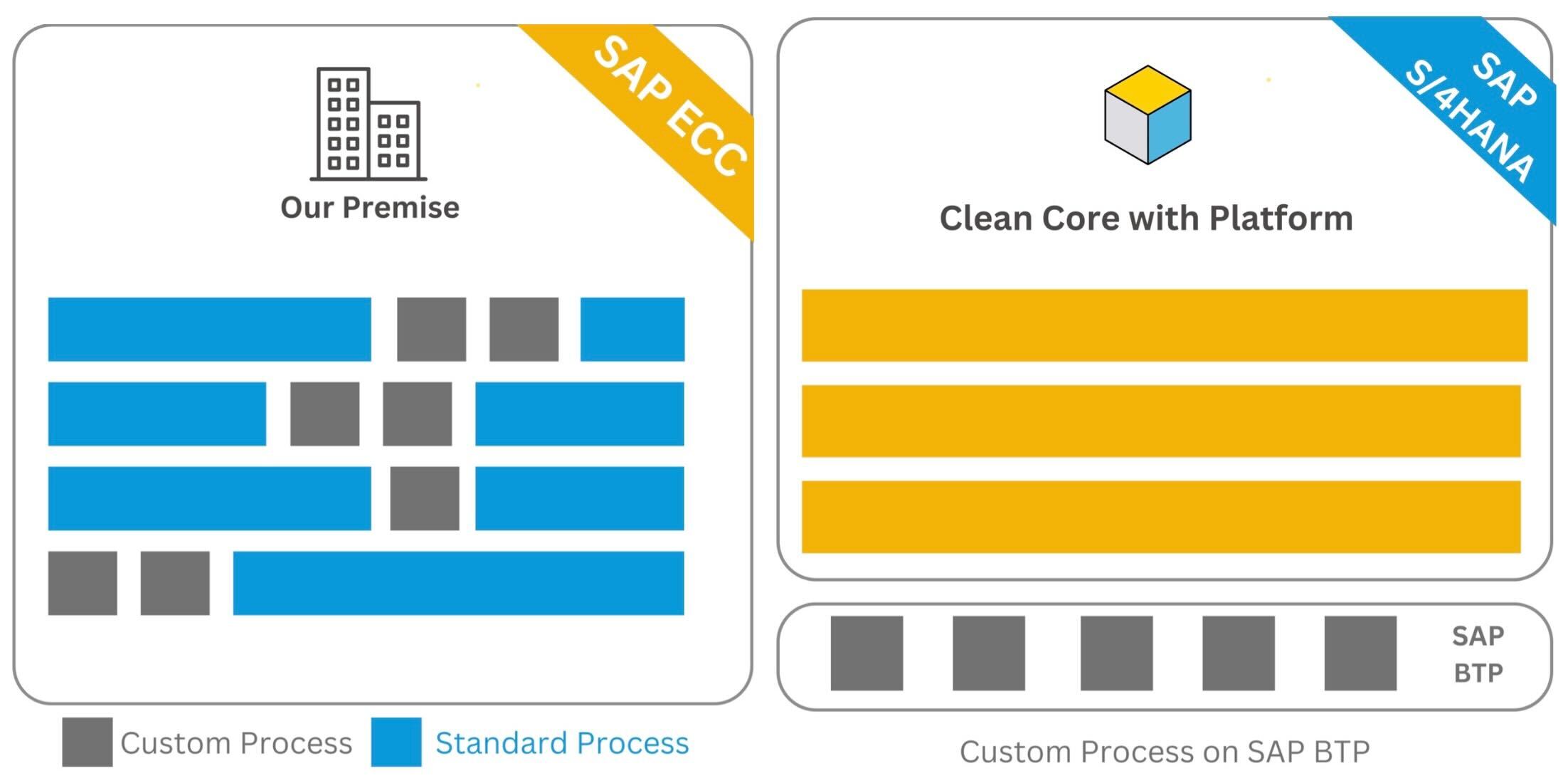 Clean Core Advantages
With SAP Clean Core, Customers can benefit from a reduced implementation time, lower implementation cost, and lower total cost of ownership (TCO). By removing unnecessary components and streamlining the system, SAP Clean Core provides a more optimized system that is easier to use, manage, and upgrade.
Our Approach
Let's dive into our approach of how this is done.!!!
Technical Analysis
Map the existing business process with SAP standard out of the box applications in S/4.
Functional Design
Identify gaps from the standard process in S/4
Technical Design Proposal
Our teams would propose a recommendation for Code remediation, retiring old functionality and re-platforming.
Mygo SAP Garage
Tons of resources to help. Step into our SAP Garage and peek under the hood to see our content leaders valuable blogs, thoughts, ideas and inspirations.